After three months of closed Preview testing, Typst is now available to everyone! We are also making the Typst compiler open source.
Today is an exciting day for us at Typst! After a week of applying the necessary polish and three months of closed Preview Testing, we are ready to make our scientific typesetting app available to the general public. Starting today, everyone can use our app and find out how Typst helps them to compose papers faster. We plan to use the beta test to learn more about the needs of a diverse set of users from many different disciplines, build a community of Typst users, and make learning Typst even easier. For this reason, we'd like to get Typst into as many hands as possible now and get even more feedback.
Typst is now open source
To make Typst accessible and true to an open science / open access mindset, we are open sourcing the Typst compiler on GitHub. The compiler is the foundation on which we built our web app. We have worked on it for almost four years, with relentless focus on detail and are proud to share it with you now. With the compiler out in the open, everyone can contribute to the features of the Typst platform by opening issues or collaborating on the code and documentation. An open compiler also ensures that you will always be able to compile your Typst documents. No lock-in, ever!
Bibliography, templates, and more
Alongside our beta launch, we're shipping a big update today. It contains enough new features and improvements to get its own blog post, but let's zero in on a few of the highlights: Typst can now automatically manage your bibliography. Just upload your existing bibtex file and start by @citing your literature. Typst will display the appropriate in-text citation and prepare a bibliography for you.
Typst already has had an interactive template creator for new documents, but today we are adding five pre-made templates to the new template gallery. IEEE and AMS papers accurately replicate the look of the IEEEproc and AMSart LaTeX document classes and the department newsletter is a fun and colorful way to share what's new in your organization.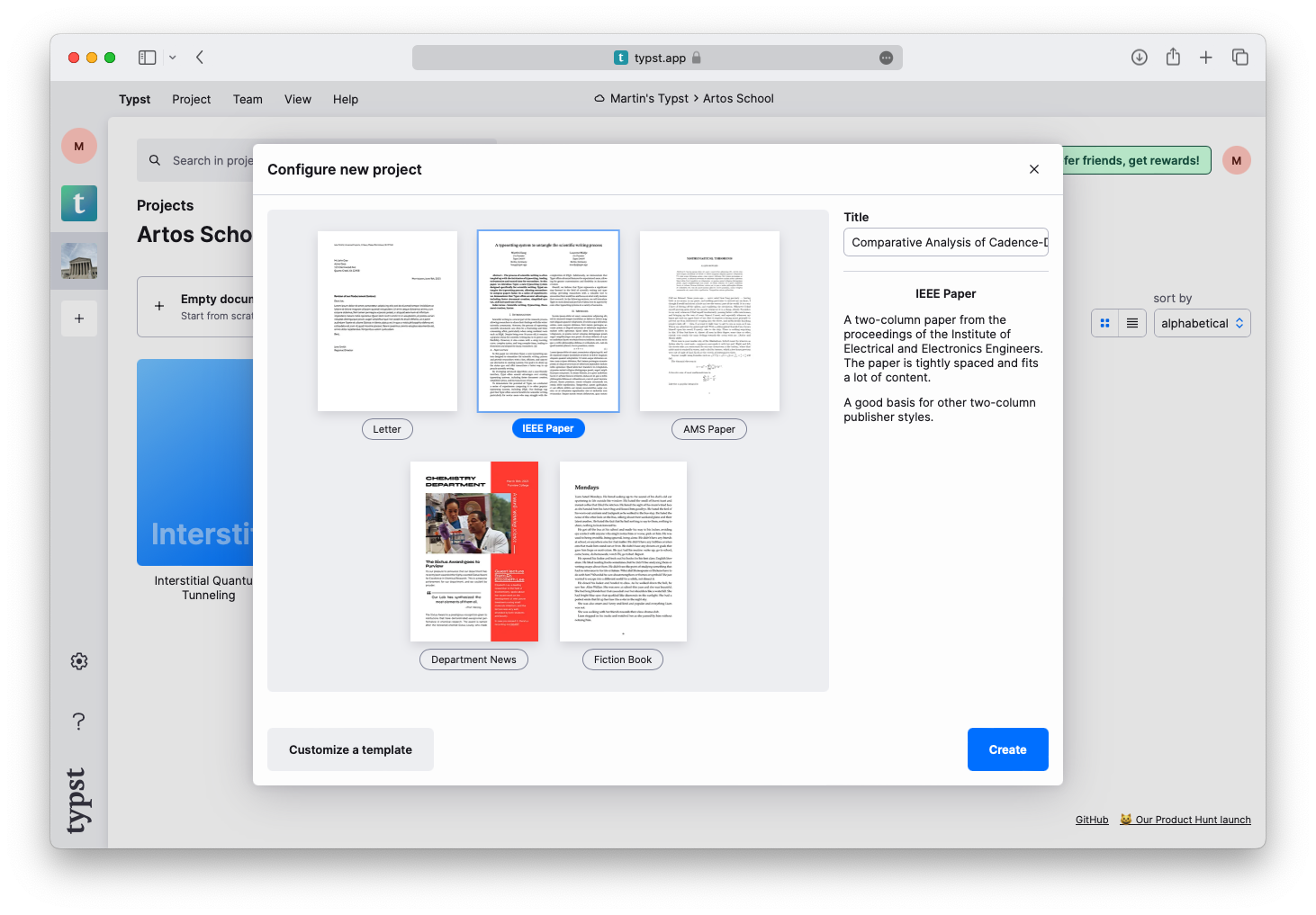 When working with markup, you frequently jump between preview and source. We make this easy: You can click in the preview and your markup cursor will be placed at the exact corresponding location! Typst also automatically scrolls the preview to the right spot when you're writing in the source code.
Finally, we are adding more scripting features today that allow you to count elements, work with state, and find elements within your Typst documents. These features will be great for package and template creators. (Stay tuned for our package manager!)
Looking back and forward
None of this would have been possible without the testers in our closed preview. They helped us find bugs we would have never thought of, test-drive Typst in real-world conditions, and prioritize our roadmap. A tid-bit from a survey we ran with them: Most people got productive in Typst in an hour or less, so Typst really is accessible and easy to learn! We also shipped a comprehensive maths mode during the preview test. and people seem to love it.
Together with the Preview members, we built a great Discord server where we hang out as a community. I'd like to invite all of you to join, too: It's the best place to get your questions answered and nerd out about typography and scripting.
Get started and help us spread the word
If any of that made you curious, create a Typst account, check out the tutorial, and get writing! If you like what you saw there, please help us out by sharing Typst with your friends, collegues, and the wider science- and nerdosphere: Message friends your referral link, share the Product Hunt launch, discuss our open-sourcing on Hacker News, or go on your favorite subreddit! Thanks to everyone who's helping us to bring scientific writing to the next level!